"Macy", our 2003 Ford Explorer, is the first vehicle that we ever started boondocking in!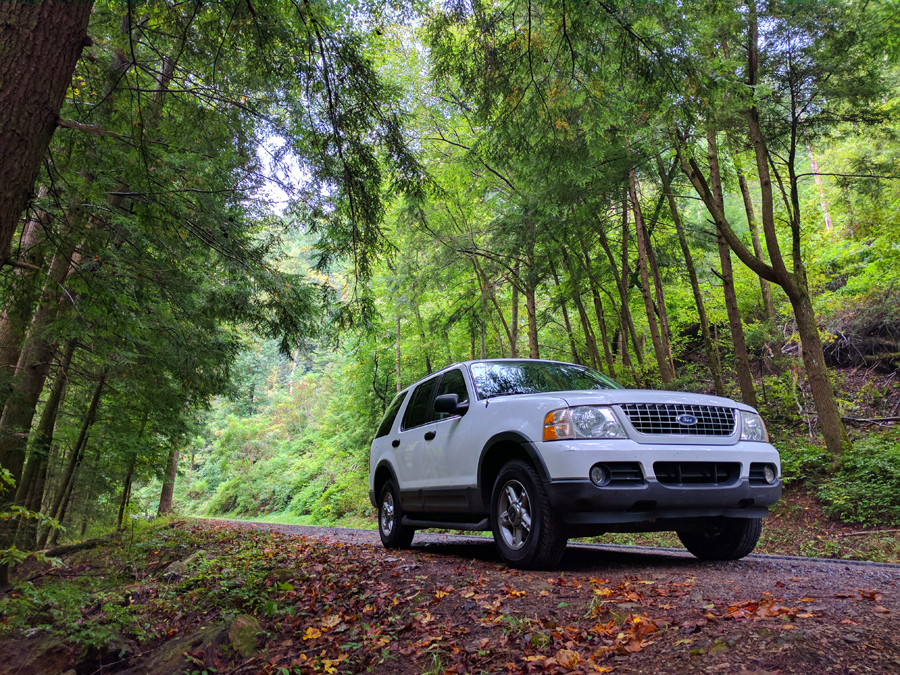 After we got married, we were on a mission to do as much traveling as we possibly could while waiting on Daniel's work permit to arrive. We knew that we would likely never have that kind of time again, so we wanted to make the most of it while we could. We learned so much on those first couple of trips, and now, we can have the car loaded and ready to go in no time at all! It is so nice not to have to tackle with hotel reservations or very set plans. It works best when you can be super-flexible, and not be stressed over little details not always coming together just right.
You can fit a queen size blow-up mattress in the back of a Ford explorer when the rear benches are laid flat. This is the most important part, because that allowed us to get a good night's sleep even while on the road.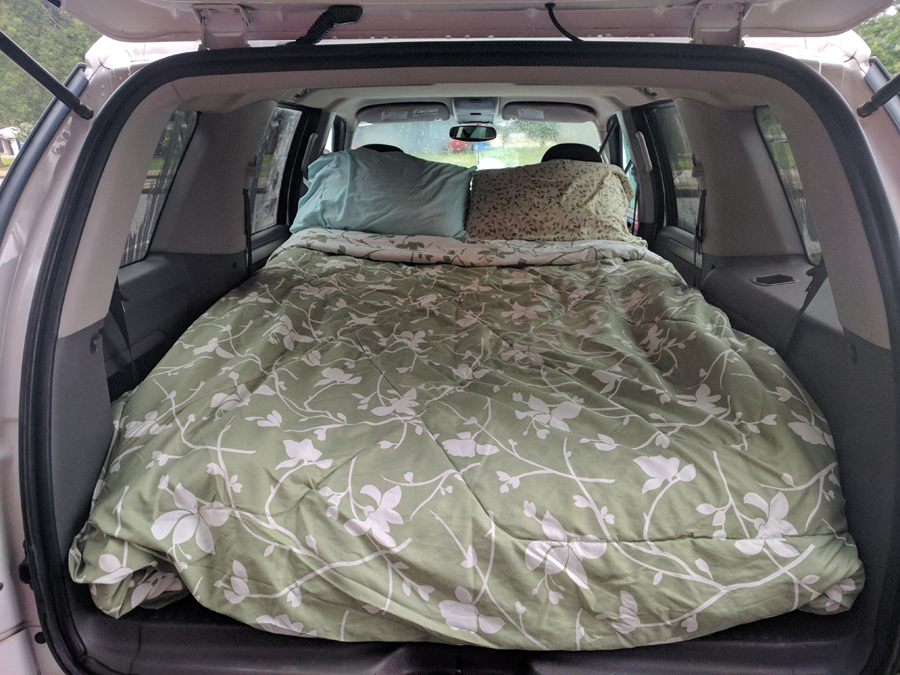 We got our mattress from Walmart, but this one on Amazon has great reviews and is very similar to what we have.
Next up, we had to figure out our cooking situation. Obviously, one of the perks of camping is NOT eating out or just living on snacks. We wanted a solution for cooking food no matter where we were. We ended up getting this folding table and this portable camping stove. We will be upgrading the stove to a larger one with a windbreak, at some point. The only thing that was very difficult about using this stove was when we were in the desert and it couldn't cook as effectively because of the wind whipping through.
It was rather romantic to sit and sip our cocoa that we prepped in the middle of the California desert. <3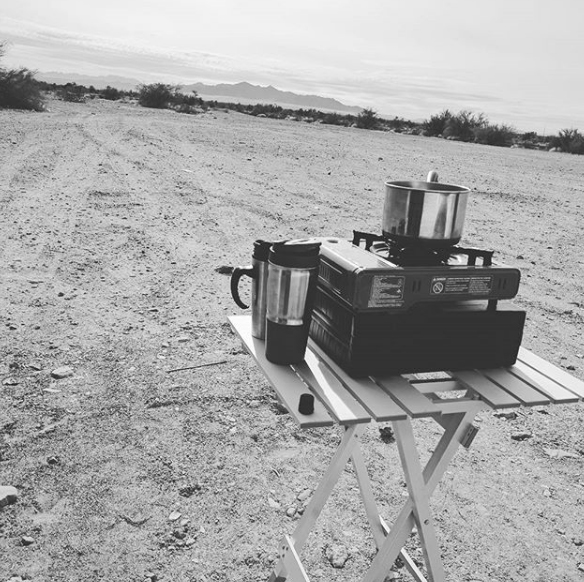 We traveled out west in January, and as you all know, January is cold in most of the United States. We did some research about how to insulate our car, and the usual answer is reflectix, which folks cut and place in their windows. We found out that it was cheaper and as effective to cut up windshield sun visors and do the same thing. I don't have a photo of what the side windows look like, but we pretty much love the Star Wars one that goes in the front windshield.
These worked great for privacy and for keeping the cold out!
So, where do we sleep? I'm glad you asked! We've had the most luck camping out at Pilot and Flying J truck stops. I have a professional driver card with Flying J, so we get 3 cents off every gallon of gas when we fill up there, and every 8th cup of coffee is free. We also found out that we could earn a free shower credit with every two gas fill-ups, which doesn't take very long when you are doing a long-distance trip!
All of the Flying J's and Pilot's also have laundry facilities, some nicer than others. This picture is from a particularly nice location in New Mexico:
We always carried extra water to wash our dishes, so that was easy enough, but all of the Flying J's/Pilot's also have a sink in the coffee area that can be used for that as well.
For keeping food cool, we normally pack a car cooler like this. It did a pretty great job at keeping our eggs, cheese, and butter fresh! Daniel actually brought his over from Australia, but the one I linked to is very similar. When we've gone traditional camping, we just used a standard cooler.
We have had so many great adventures in Macy! I am looking forward to seeing how things change when we upgrade to our small camper.